Campaign to Research the Impacts on Social Equity and Economic Empowerment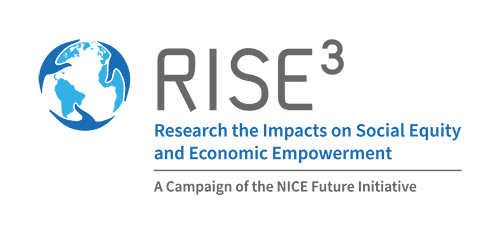 To accelerate the replacement of unabated coal plants with new, advanced nuclear technologies and to bring about breakthrough nuclear innovations, the NICE Future initiative launched a campaign to Research the Impacts on Social Equity and Economic Empowerment (RISE3). RISE3 will provide expert resources and create a blueprint for countries transitioning to a clean and just energy economy with nuclear innovation as a key pillar by:
Recommending areas where nuclear technologies can advance environmental justice and equity
Detailing how nuclear energy can advance renewables through coupling and flexible operation in integrated clean energy systems
Examining how flexible utilization of nuclear energy for electric and nonelectric applications can lift economies and quality of life for communities and nations, including remote, off-grid, or islanded communities
Tracking community transformations, with a focus on how coal site conversion options with nuclear and/or renewables yield economic and jobs impacts.
This work stream is a unique partnership of nuclear, renewables, and environmental nonprofit organizations, under the Clean Energy Ministerial's leadership, serving as clean energy advocates to provide options for accelerated and just solutions. Efforts will focus on actions that can generate jobs and raise quality of life in communities. New advances related to the potential for expanded nuclear-renewables integration, flexible electricity grids, hydrogen production, thermal and electrical energy storage, advanced nuclear technology designs (small modular reactors and more), process heat utilization, desalination, and more will be addressed.
Highlights of RISE3's initial work, including the, RISE3D Case Study Series, were shared at the U.S.-hosted Global Clean Energy Action Forum in Fall 2022.
Learn more about the objectives and partners of the RISE
3
campaign by exploring the
campaign's fact sheet
.
Kenya's Clean and Reliable Energy Future
To learn more about RISE3 subscribe to the NICE Future mailing list.
For questions or to reach out to the RISE3 group directly, contact us.